Here are five simple ways to get your WordPress Site Speed zipping along.
Implementing only a few of these steps can significantly help reduce your website's bounce rate and increase overall search engine ranking. Applying these steps should take only a couple of hours. However, the ROI will make it all worthwhile!
Invest in FAST WordPress Hosting
WordPress site speed You can utilise as many plugin and other techniques as you want to improve WordPress Site Speed… However, if your website hosting plan is not up to scratch, you will struggle to get the optimum load speed you were hoping for.
You can get WordPress Hosting from as little as €5.00/month up to €40.00/month. (Pricing based on actual monthly hosting. Host providers may offer introductory price for a limited period.)
At WP Tekkies, we offer super fast WordPress hosting to all our customers. In addition, we provide free site migration, free SSL certificate and great support to all our new customers.
Use a Content Delivery Network (CDN)
A Content Delivery Network takes all of the static WordPress files including images, Javascript and CSS (files that are rarely changed or modified ) of your WordPress site and allows visitors to quickly download these elements of your WordPress site. This is achieved by storing the files on servers that are in the closest proximity to the site visitors location. A CDN can be particularly useful if your website's target market is global.
There are multiple CDNs to choose from and most are very good. Many come with a free version or trial. We recommend using MaxCDN or Cloudflare.
MaxCDN is widely considered to be the best Content Delivery Network on the market. Pricing starts at €7.75/$9 per month.
Cloudflare is one of the most well known and offers a free option for personal WordPress websites and blogs.
Note: Free plan includes limited DDoS protection and doesn't have all of the additional features included in paid plans.
Use a Caching PLUGIN
If you understand what browser caching is then caching your WordPress website is pretty similar. When someone visits your site, certain static files are stored/cached for a designated time. This allows future requests for that data to be served faster. Site caching is especially useful for return visitors to your website and for those who may wish visit several pages of your site.
There are a ton of caching plugins available, both free and premium. We tested and compared several and found WP Rocket (premium) and WP Super Cache (free) as being some of the best.
A word of caution: If you are not overly familiar with the concept of caching your WordPress site, it is recommended to use only the standard settings provided by plugin provider.
Modifying the advanced section of the caching plugin may significantly improve your WordPress site speed. However, if you are unfamiliar with these advanced settings you may unintentionally cause issues with your site rendering correctly or not at all!
Always test your site thoroughly after installing and activating a caching plugin.
Finally, if you are doing any edits to your site you may need to refresh (Ctrl + F5) or clear your plugin cache before your updates are displayed correctly. Another option is to deactivate your caching plugin before doing any updates and then reactivating once updates are complete.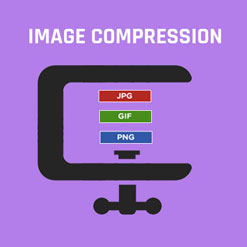 Compress Images
This is an important one! The file size of website images are often the biggest culprit of slow page loading. Overly large images are one of the most unnecessary causes of slow page download. It can also play a significant role in frustrating your site visitors. Ultimately producing higher bounce rates leading search engines to penalise your site ranking.
Search engines like Google highlight image size as an important factor in your sites PageSpeed.
If your images are not optimally compressed, then doing so can significantly improve your WordPress site speed. Positively influence your search engine ranking. Bloated and uncompressed images can not only effect your website visitors overall experience but also your organic ranking on search engines.
If you use Adobe Photoshop or similar image editing software you can fine tune the compression of multiple image types including JPEG, PNG and GIF, prior to uploading to your WordPress site.
If however you have already uploaded all your over-sized images to your WordPress site. Fear not!
There are several plugins that can do a pretty good job of getting your site images down to an acceptable file size without losing image quality. The best plugins we found include WP Smushit or EWWW Image Optimizer.
Both offer you both free and premium versions. Generally, the premium versions offers better compression and greater bulk optimisation features. That said, the free version can still drastically improve your WordPress site speed.
Optimise Your Database Tables
To ensure your database is always running smoothly, you should regularly (e.g. once a week) optimise the database tables. This action will also contribute to improving your WordPress Site Speed. If you have some web design or web development experience, this action can be done manually through your PhpMyAdmin.
Alternatively, you can use a plugin like WP-Optimize or WP-DBManager, both allow you to optimize your database tables from your WordPress dashboard, as well as remove spam comments, unapproved comments, post revisions, and more.
Important Note: Before performing any database optimisation using one of the plugins recommended above, please ensure your database is backed up before you proceed with optimisation.
Conclusion
These 5 steps outlined above are not the only steps to improving your WordPress Site Speed but are quick and easy with high return on time spent.
If i were to pushed to choose only one step to take in the 5 listed i would have to say … invest in good quality WordPress Hosting.
Most quality WordPress hosting providers will already include fundamental features to keeping your WordPress site speed up and zipping along. For example, at WP Tekkies we include a free CDN and site caching features as standard.